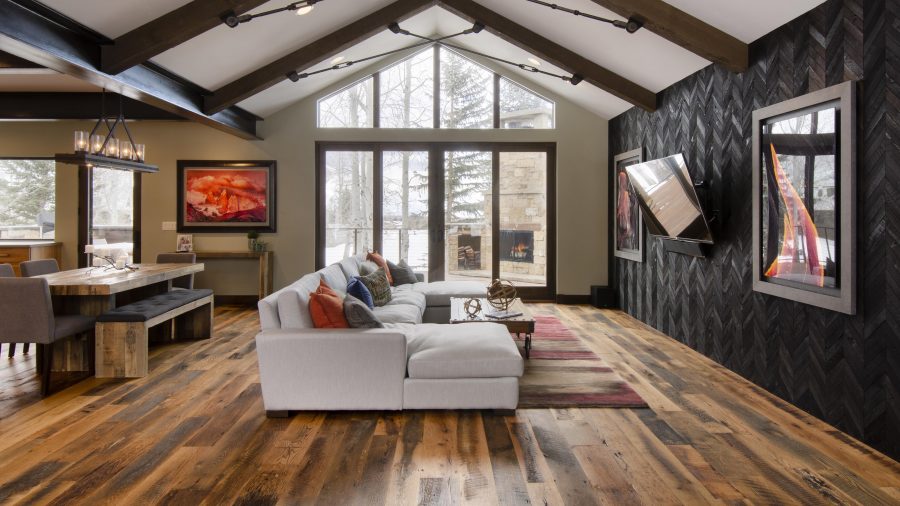 Buying or building a home is a huge milestone in the lives of many. One of the first decisions that you will have to make after buying or building a house is how to create an inviting atmosphere that will make it feel like home. Flooring options are one of the biggest factors that contribute to achieving the look and feel you are after.  With that being said, here are five reasons why you should consider installing hardwood flooring in your home.
Diversity In Styles
Hardwood floors are known for coming in many different kinds of attractive colors, textures and finishes. This means that any style that you can dream of is feasible for your home. The diversity of hardwood flooring makes it appropriate for any kind of look you are after. Whether you are looking for a dramatic or domestic look, hardwood flooring is a great, versatile option.
Hardwood floors will naturally fade over the years due to everyday wear and tear, but you can put your mind at ease knowing that they can be easily refinished to look brand new again. As opposed to carpets, in which faded colors and wear are permanent, hardwood can always be restored.
Because we own our own sawmill, we are able to create completely custom flooring that will accommodate every style and taste. Here at Texturewood, we pride ourselves on the ability to give our customers exactly what they want.
It Is Renewable
Another great benefit is that hardwood happens to be renewable. If you are environmentally conscious using reclaimed wood will ensure that you are not contributing to deforestation. Reclaimed hardwood is quickly becoming a popular choice among homeowners because it can either be kept in its current state to achieve a rustic look, or can be refinished so it looks brand new.
Better for Allergy Sufferers
Another major benefit of having hardwood flooring in your home is that allergens such as dust, dander, pet hair etc. sit on top of the floor rather than getting trapped deep in the fibers of carpet. Making it easy to thoroughly clean, resulting in improved indoor air quality.
They Are Durable
Everyday wear and tear will eventually run its course regardless of the type of flooring you have. This is the case with hardwood, tile, carpet, vinyl, etc. The best part about using real hardwood flooring is that it can be restored to perfect condition again and again. The most common types of wear on hardwood include fading, dents, scratches and warping. All of which can be fixed by re-sanding and refinishing your floors. No other flooring material offers this convenience.
Increases Your Home's Value
If you ever thought about selling your home, you will be glad to know that real hardwood flooring will exponentially increase the value of your home. Partially because of the reasons listed above, but also because they are becoming more popular and sought after day after day.
At Texturewood we offer a vast selection of excellent hardwood flooring options. Pair that with decades of expertise and a dedication to superior customer service and it is easy to see why we are quickly becoming one of the nations' premier hardwood flooring manufacturers.